This morning the Mariners announced that they have signed PCL superstar Efren Navarro to a minor league contract, immediately inviting him to major league spring training.
PCL fans know Navarro: he's been the toughest out in the Salt Lake Bees lineup for the past five years. Here are his numbers in the PCL – batting average/on-base percentage/slugging percentage:
2011: .317/.368/.488 – 36 doubles, 6 triples, 12 HR.
2012: .294/.336/.403 – a down year by his standards
2013: .326/.404/.454 – 39 doubles, 68 walks
2014: .326/.418/.482 – 19 doubles, 43 walks in 72 games
2015: .329/.380/.442 – 24 doubles in 72 games
He's a career .316 hitter in the PCL, and he does all of this while playing gold glove quality defense at first base.
In recent seasons Navarro has been moved to the outfield because first base in Anaheim is blocked by Albert Pujols. He's spent about half of each of the last two seasons as a reserve player in the majors.
Navarro is the modern-era Salt Lake franchise leader in almost every offensive category, and someday they'll honor him at Smith's Ballpark. In the meantime, maybe we'll get him in Tacoma this year?
—
Exhibition games start today! The Mariners face the Padres at 12:10 (Pacific), and it's radio only on 710 AM – listen as my radio buddies shake off the offseason rust! (Actually, Rizzs is a machine – he's in midseason form 365 days/year).
Lineups: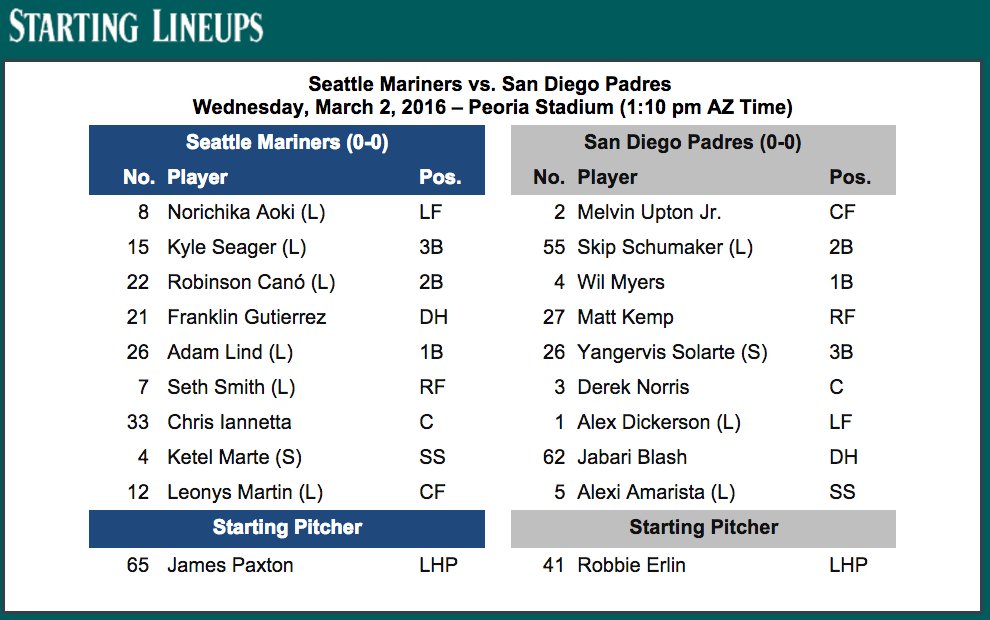 Hey, don't we know one of those Padres?
Links:
Enjoy a sort-of real baseball game today!