Here's something I learned in 2014: it's not funny when Topps totally messes up your first baseball card.
I was sitting in the dugout with Rainiers catcher John Hicks. He had been with the team for about two weeks, and we had just finished recording our first pregame radio interview.
Rainiers batting practice was over and the visiting team was hitting, the gates weren't open yet and the music wasn't turned up to eleven, and we sat there chatting while watching the field.
I mentioned to him that one of the autograph collecting fans had shown me Hicks' first baseball card – which pictured him with the Arizona Diamondbacks, a team he has never played for. Hicks was drafted by the Mariners in the fourth round of the 2011, right out of the University of Virginia. He has never played for any other organization.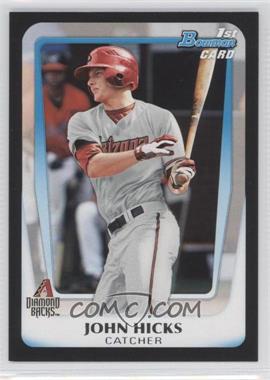 Hicks said he was excited to have a card – they usually only make them of first and second-round picks, so to get one as a fourth rounder was pretty cool.
But how did they get that picture? Is it even him?
He said it's a picture from the University of Virginia, and that Topps photoshopped a Diamondbacks uniform onto it. He has no idea why they thought he was drafted by Arizona.
Especially since the back of the card clearly says that he was drafted by the Mariners. It's right there in the upper-right corner.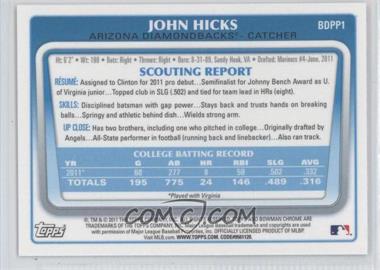 At this point I laughed out loud, turned to look at him, and said something like "you've got to be kidding." And that's when I realized that this was no laughing matter.
Shaking his head with a frown on his face and a sad look in his eyes, Hicks said "that's not all. Half of the cards say I'm a pitcher."
Hicks' disappointment shouldn't have been a surprise to me. In a series of articles written by an agent for Baseball Prospectus, the author mentions several times how happy his players are when they get their first baseball card.
The Mariners think that Hicks is going to play in the major leagues. When he gets there, hopefully Topps will make a card showing him with the right team. At least they won't have to photoshop it.
Links: